It was a pretty nice trip to Cracker Barrel on Saturday, August 22, 2020. We finally got 2 attentive waitresses. Between us and the Hot Rod guys, we had 19 total at 3 long tables. There were 7 of us at the British table and Rick Huber's Lotus was getting a lot of attention out in the parking lot – because he was running it without a hood. Real hot rod stuff! Nice to be able to kinda see the cars from where we sit.
Today's crew included Jerry, Randy, Danny, Rob, John Pearson, Rick and myself.
Danny tried to get a taste of Randy's blueberry pancakes with a Harbor Freight telescoping fork… and Tiffany got my order wrong. (second time this happened) I wanted the country ham & biscuit like last week, which I think is around $4. Plus fried apples and tea… She brought me 2 huge slices of ham, and when I said I wanted the ham & biscuit she said "Oh, biscuits are on the table!" AHHH!
The ham alone was over $7.00! Danny (aka Colonel Mustard) says you have to open the menu and Point at what you want. Lesson learned.
Cruise Safe and good luck with the hurricanes,
Roving Reporter
Bobby Spann
Dear Roving Reporter,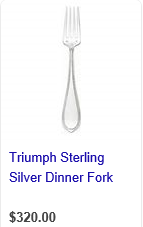 The vintage telescoping fork demonstrated at the Cracker Barrel is definitely NOT a Harbor Freight item. It happens to be a slightly modified Triumph Fork, similar to the one that recently sold for $320.00 USD at Sotheby's Auction House…
Best Regards,
Colonel Mustard
And if you believe that one, there is this bridge for sale!!!